With a number of brilliant Christmas skiing holidays behind us there was no hesitation to head back to Austria again for the 2019 festive season. We'd had a great visit to 'the snowiest village in the Alps', Warth, in 2018 so we thought we would try the other end of the immense Arlberg ski region, famous St Anton. With fast modern links to St Christoph, Stuben Lech, Zurs and Warth beyond you have got over 300 km of marked pistes and 88 lifts. Known as one of the original centres of downhill skiing St Anton is now a stylish resort and spiritual home of apres ski with the legendary Mooserwirt and Krazy Kanguruh bars on the slopes above the town. It's difficult to think of a greater contrast to tiny Warth, however, would St Anton live up to the hype?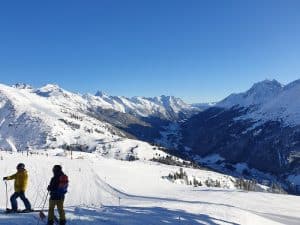 For a start the snow was excellent. This part of eastern Austria, Tirol and Voralberg, has a very good snow record and we also got plenty during the week with pretty much all runs open. Almost without exception the lift system was excellent with some state of the art connections including the brand new Schindlergrat, the spectacular Galzig out of the town centre and the Flexenbhan which is the key modern link to Zurs and beyond. We had a couple of days when, due to snow, we were restricted to the St Anton domain itself and there was plenty of excellent skiing around Rendl, Gampen, Galzig and St Christoph areas. When the weather was fine and we could reach all parts then we rarely came cross a queue of any sort. Particular highlights were the empty slopes above Stuben, the home run from Rendl, the route down to Zurs from the top of Rufikopf, the beautiful descent down to pretty St Christoph and the '100' piste in the sunshine, as long as it wasn't too busy. We didn't manage the 85km Run of Fame, visiting all sections of the Arlberg system, and never actually made it much further than a sunny pitstop in Oberlech but the options are there who want to get up early and make the hard yards.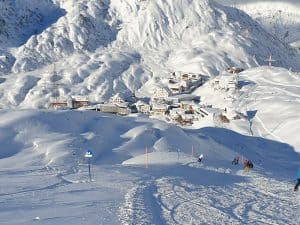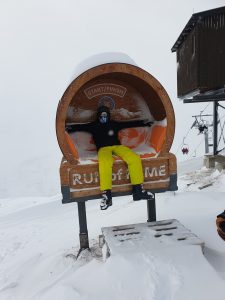 The slopes were busier than Warth, partly due to the weather, however the variety was simply superb with something for all standards including brilliant off-piste and 200km of ski routes. We also much enjoyed the mountain restaurants and huts with the grostl (a bacon, onion and potato fry up) at Sennehutte and dumplings at the Bifang-Alm (below Rendl) being favourites. For a feeling of isolation it was difficult to beat Albonagratstube on a deserted mountain top above Stuben and well away from the crowds. Last but not least there has to be a shout out for the historic Hospiz Alm in St Christoph – who has not longed for a slide down to the loos to avoid taking the stairs in ski boots!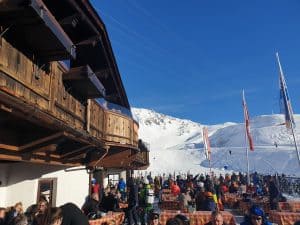 So what about St Anton itself and its famous apes ski? Well firstly the town was a big surprise as at its heart it is an attractive Tirolean mountain village. The pedestrianised main street, Dorfstrasse, runs through the centre with hotels, restaurants, shops and cafes dotted along, some in pretty old timber and stone farmhouses. The onion-domed church lies at one end, packed for Christmas services, and above them all the steepling mountains loom.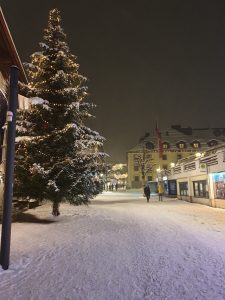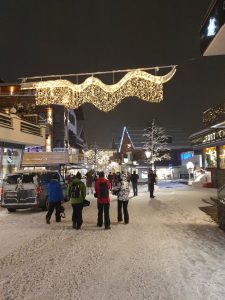 And the Apres Ski? For research purposes we did test the Mooserwirt a couple of times: try to get there by the start of the DJ set at 15.30 to enjoy the sight of a wooden 'hut' transform itself, in seconds, into a Eurodisco with full descending light rig, gallons of dry ice, stomping ski boots and the opening chords to The Final Countdown! The hut will be full in 10 minutes and the outside area by four o'clock. It's a short and busy run down from here (or the nearby Krazy Kanguruh) into the town and straight to Basecamp – the safer option as you are on foot from here and it has the same singalong classics on repeat. There's plenty of bars, nightlife & live music, but it's also not difficult to find a quiet spot or a top quality restaurant. There's a huge spa/wellness complex plus sports centre with indoor/outdoor climbing walls. It's also one of the most accessible big resorts, with two airports (Innsbruck and Freiderischafen) within 1.5 hours drive, and for non-skiers there a good bus system linking it to Zurs & Lech or it's just over an hour on the train to the centre of historic Innsbruck.
We stayed in the Mark Warner Chalet Hotel Rosanna, and would thoroughly recommend it. It is an 'adult' property (kids from 7 up are allowed in the school holidays) so there is no childcare and is more of a throwback to the old style Mark Warner – friendly, sociable and chatty. The staff were a mixture of British and European, all helpful and enthusiastic with a couple of seasoned pros who knew the slopes and town well. The lounge was comfortable and well designed and you had the ever lively Scotty's Bar next door for drinks. Meals were served on mixed sized tables, there was a sign up list for dinner between 19.30 and 21.00, and it was a good chance to meet others and mull through the day's events – we were skiing with new friends from the first day. Mark Warner can no longer do staff guided skiing, which is a draw for many, but the club feel works well as shown by the many repeat guests. Meals were hearty with big breakfasts and three course dinners with wine. There was nothing fancy and the vegetables got pretty tedious however all in all it was fine, enjoyable fare with a good stab at Christmas Dinner. The atmosphere overall was jolly, staff efficient and the afternoon teas were brilliant – lashings of home-made cakes and soups meant that a quick pit-stop could take a couple of hours! Rooms were spacious and functional with smart, modern, warm and stylish bathrooms. A short walk (50m) from the main pedestrianised Dorfstrasse it was only 5 minutes from the main lifts so a very good location. There was a ski room although we used the facility at our ski hire place next to Galzig. Hotel Rosanna is a good value 3* property in a superb location – nothing fancy, it does what is says on the tin and we would recommend it.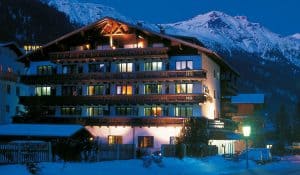 Once again we had a great fun Christmas ski holiday. The snow, lifts and pistes were superb, the relaxed Austrian approach was brilliant, as was the resort which had something for everyone although it is quite challenging for beginners. It is however time for a change so we've booked elsewhere for 2020. This time we're heading across the Italian border into South Tirol to Corvara, set in the heart of the Dolomites.
Not everyone fancies going away at Christmas but don't think you will miss out in any way in terms of the atmosphere and celebrations – while it is business as usual for the visitors it is a joyful and festive time for the locals too. Christmas is usually nothing like as popular a skiing week as February half-term, New Year or an early Easter. Prices can be better value and the pistes significantly less busy – particularly around Christmas Eve & Christmas Day itself when most of the locals tend to stay at home with family or friends. The slopes generally start to fill up from around the 27th/28th December.
Now's the time to book your Christmas skiing so get in touch.