We always suggest that anyone planning a Japan holiday allows plenty of time to see Tokyo. If anything we suggest allowing even more time for Kyoto, there is simply so much to do.
We had allowed ourselves 3 nights travelling by train from Hakone (Odawara) and then on to Hiroshima/Miyajima afterwards. We knew it was not much time so we planned to pack a lot in and we were staying in the historic low-rise Gion district which helped as so much was on our doorstep. Over the years we have encouraged clients to use the Machiya townhouses as a base in Kyoto – these traditional style houses offer a home from home, a place to spread out and relax in a peaceful area plus they make a change if you are using a lot of hotels or ryokans. Ours was a two bedroom property, one with western beds and one with tatami, it was modern and stylish with a small yard. We loved it and the location was a real bonus. There is also a great range of hotel accommodation in the city however the ryokans can be quite expensive. The Machiya would also work well for those with children, generally having more space to relax in, although we would also probably feel that the high level of cultural sightseeing in Kyoto might be a bit boring for younger kids.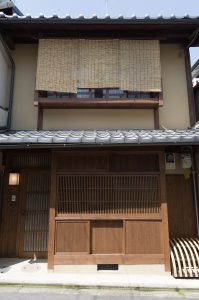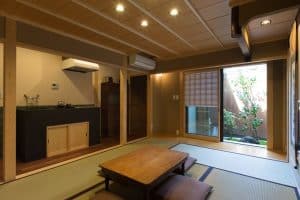 With so much to see where do you begin? We had a half-day guiding booked so decided to using this for a couple of the real highlights and also those further away so we could get a grasp of how best to get around Kyoto. The way the guiding works, you choose what you would like to see/do and the guide takes it from there. Of course they can take the lead and make some suggestions but it is totally tailored for you and your interests. The brilliant Kiyoko Se arrived at our house at 09.00 and after a bit of chatting about the plans and looking at the maps we set out – as well as showing us the sights she was brilliant at explaining the basics of Imperial Japan, how it worked and how it developed into the Shogunate over time. Kyoto does not have quite the same level of metro system as Tokyo and it also does not cover the area of the main tourist sights in the same way. There are plenty of buses, overground trains and trams too however in general it is not quite as easy to get around by public transport. We set off by bus with a plan to visit Kinaku-ji the Golden Pavilion, Ryoan-ji Temple with its famous rock garden plus the Tenryu-Ji Temple and nearby Arashiyama Bamboo Grove. These are all in the North-West and West of the city and on our way there we passed by the massive Kyoto (Nijo-Ji) Castle in the city centre.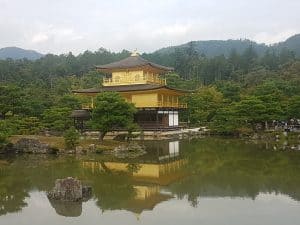 The Golden Pavilion is one of the best known sights in Japan and its main hall, covered in gold-leaf shimmers above its reflecting pond. It seemed so delicate and it's a stunning setting with the hilly forest just behind – it must be amazing in the autumn colours. Nearby the gardens of Ryoan-ji were a brilliant introduction to the formal Japanese styles. Exquisite views lie everywhere however the centrepiece of the Zen rock garden, 15 stones set adrift on a bed of sand, is stunning. Heading across town, using one of the classic old-style trams, we then visited Tenruji-Ji Temple where the beautiful garden is more for strolling than contemplation. In truth we were getting templed out so it was great to escape into the lush green of the Arashiyama Bamboo Grove nearby – the stalks seem to rise in all directions and once in the grove the light is very strange. Having Kiyoko Se really brought these treasures to life for us and reminded us of the value in a great guide plus she helped us get around swiftly and gave great pointers for the rest of our stay.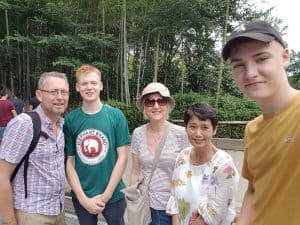 For a contrast we used the rest of the day to see a different side of Kyoto. We first explored Nishiki Market, the huge covered arcade supplying a wide selection of weird and wonderful foods, with lots of tastings along the way – delicious pickled cucumbers, wasabi sesame seeds plus lots of scary and mysterious dried fish. There are some very atmospheric streets either side of the river and then crossing into, and exploring, Gion gives you an insight into some of the finest traditional architecture of this historic area. Canals, bridges and shrines of all sizes abound. Staying on the edge of it we saw it at different times of the day – early evening is when it is at its best and we did come across a Maiko heading out from her okiya, (geisha lodging) for an evening engagement in ornate dress and towering wooden clogs.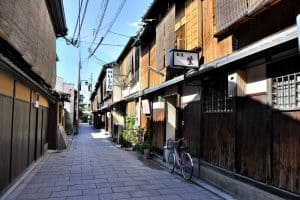 To cap off a busy day we set off to Osaka for dinner! We didn't have time to stay there during our visit so after a quick 15 minute train ride we were on the Osaka metro heading downtown. What a contrast! From peaceful low rise Kyoto we emerged out of the subway into a full cacophony of noise and colourful glare of neon in Japan's third largest city, whose unofficial slogan is 'eat until you drop'. Walking along the canal in Dotombori we tried as much as we could with heaped plates of BBQ crabs legs, piles of gyoza, fried chicken and the famous Takoyaki – octopus dumplings made in their own special moulds. Catching one of the last trains back to Kyoto we stepped out into the silent city, hardly a neon sign in sight and the streets calm and quiet.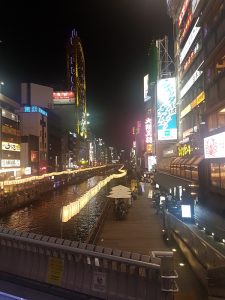 Having explored the North, West and Centre of the city on the second day we opted to stay in the west and around our own area Gion. The Fushimi Inari-Taisha is simply one of the most impressive and memorable sights in the whole of Kyoto. Located in the south-west it was relatively easy to get to on one of the private train lines that runs on this side of the city. The tunnel of red torri gates, snaking their way up the heavily wooded hillside is stunning and at many points around the complex you will also come across small stone foxes, considered the messenger of Inari. It was very busy (and hot) and we did not make it into the upper sections where you can spend the best part of the day walking if you wish. As one of the most popular shrines in Japan it is always going to be busy so it might be best to try an early start or come back late in the afternoon to see if the crowds have gone.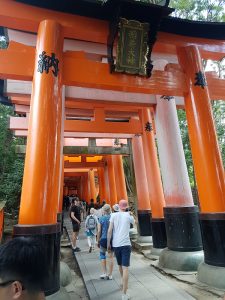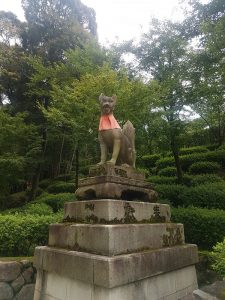 Heading back by train and bus to the north-west corner of the city we ignored the famous temple visits and spent a wonderful couple of hours strolling along the Philosopher's Path. This is a very peaceful route, mostly along a canal, that lies beneath the wooded hills on the western edge of the city. There are plenty of temples along the way but there was also great charm in strolling through the peaceful backstreets and residential areas. Finding ourselves back 'home' we enjoyed our own beautiful neighbourhood with the towering Kodai-ji Temple beautifully framed at the top of the slope next to our Machiya. Also just around the corner were Ninen-zaka and Sannen-saka, two lovely restored streets with old wooden houses and traditional shops. Even at the end of the day they were busy with plenty of visitors dressed up in traditional Japanese clothes.
So in two packed days we had hardly scratched the surface of the 17 UNESCO world heritage sights, visiting four temples and one famous garden, however there's much more to Kyoto than just sightseeing. Walking the streets of Gion was always a joy, generally so calm and charming compared to Tokyo plus it's generally flat so a good choice if the like the idea of cycling. There was always something fascinating to see and we casually strolled through the grounds of the famous Kenin-Ji temple (founded in 1202) a couple of times a day as it was just round the corner from the house. Walking the streets early evening was always a treat and we ate well at all times in some charming locations. It was very hot so shaved ice and cold noodles worked well in the day. Aside from food in the Nishiki market (where we also had a classic conveyor belt sushi meal) we had excellent Okonimiyaki (using leeks instead of cabbage) and superb teppanyaki with Hida Beef and soft shell crabs. Walking home after dinner through the silent streets, clutching an ice-cream or drink from a ubiquitous vending machine, rounded off fine Kyoto days. Experiences that are popular in Kyoto, that we just did not have time for, are joining a Tea Ceremony with a Maiko or perhaps trying your hand at taiko drumming.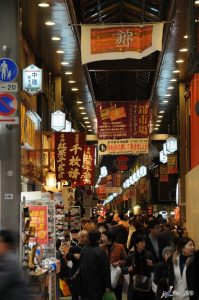 For those who don't like to have a very busy itinerary, with regular packing and unpacking, then Kyoto also works as a superb base for central Honshu. It's only 15 minutes on the Shinkansen (Bullet Train) from Kyoto station (a stunning building) to Osaka, with a metro ride to then get into the centre. Kobe & Himeiji Castle can be easily reached and a day trip west, to Hiroshima & Miyajima, is possible albeit long. Much more straightforward would be a trip to Nara, the first permanent capital with a wealth of cultural treasures. Kyoto has so much so offer itself and is simply in a great location to explore this part of Japan.  If there is one message – don't stint on Kyoto!