Well we thought we couldn't find a Greek island to rival
Alonissos
– and really we couldn't – Alonissos's charms are unique. But we moved on to Skiathos and had another amazing Greek island experience.
Skiathos is also unique – a compact island offering a mixture of charming low development and beautiful (mainly sandy) beaches, both wild and manicured.
The south coast of Skiathos, where we stayed, offers beautiful sandy beaches, some small coves and some longer stretches with stunning views from every angle. We stayed in a villa up high on the hill between Achladies and Sklithri beaches, with a view from our infinity pool over Kanapitsa beach, with its small passenger speed boats' comings and goings, and the hills of Euboea beyond – it was truly a view to die for.
We tried  all those beaches on the south coast and then ventured to the west and north coast – after all Skiathos is famous for its beaches. We couldn't try them all in the week we had, so we had to be selective. We spent a day on the rugged Mikros Aselinos (Little Aselinos) beach which we reached on a long dirt track, sharing the small semi circle of golden sand with only 20 other visitors and we ate the most delicious fried calamari and rosemary chips at the legendary driftwood taverna there. The sea was crystal clear and warm and offered excellent snorkelling. We stayed, as always, until the sun dipped away in a blazing ball on the mountain behind.
Another sun kissed day was spent on the Krifi Ammos beach, on the Mandraki Peninsular, which facing west gave us a longer day and meant we stayed until 7.30 pm on our sun loungers soaking up the sunset as it dipped below Mt Pelion on the mainland. Again there were only a handful of visitors on this beach, which made the experience so much more special, and the snorkelling revealed more fish than we saw anywhere else. Big Banana beach offered a real contrast, with its decadent sunloungers provided by the
Hotel Elivi
. We wallowed in them and enjoyed their attentive bar service and also experienced the magic of a small pod of dolphins passing by. Here we possibly found the best position from which to watch the sunset.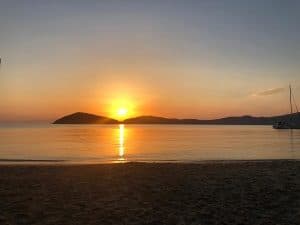 Lalaria beach, nestling under the white cliffs, could only be reached by boat and we made it, resisting the temptation to take home some of its unique white round pebbles (there is even an amnesty box at the airport giving you the chance to relinquish these pebbles). Closer to home the narrow strip of Sklithri, with its charming water-side taverna, was a favourite although the sun left it quite early. There are so many beaches to visit, and we left not having enjoyed famous Koukounaries, lovely Troulos or Mandraki beaches – we will return to see them.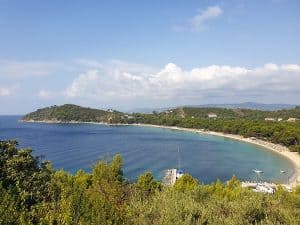 There is more to Skiathos than beaches – we spent a morning exploring the abandoned old capital, Kastro, which was literally built on a rock in the sea. The ruins of 400 houses and 20 churches, including a cathedral and a mosque, were truly remarkably squeezed onto the tiny rock and left us wanting to know more about life in the settlement which was the capital until 1820. A couple of miles down the road, the monastery of Evangelina was charming and pretty and we spent a relaxing hour there wandering in its cool courtyard. As well as being a beautiful spot it is famous for its roll as a meeting place during the early stages of the Greek War of Independence and the first flag of modern Greece was woven here.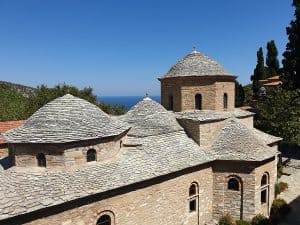 The 'modern' capital of Skiathos, Skiathos Town, is a gem. Lots of low rise white buildings, higgeldy piggedly stretching back up the hillside from the old and new ports. It has a lovely feel to it, a gentle hum and buzz which make it interesting and fun to visit without too much bother. During the day we found baklava shops, hand made pottery shops where we marvelled at the fish inspired dishes and bowls, and ate gyros on the tables at the street corner. In the evening we saw it glistening under the stars and tasteful lighting, eating seafood in the wonderful Bakaliko and Limonaki restaurants on decks built over the sea. It really is a Mediterranean town you will never tire of.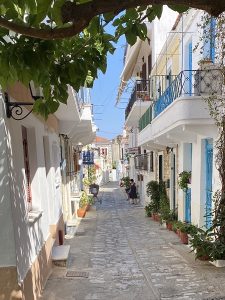 The food was always delicious and we ate in the most varied of locations, from street corner gyro kiosk to high end restaurants –
Bakaliko
was a particular favourite for a birthday meal. We were never let down by its vast range of fish, meat, pastries and vegetable dishes.
Skiathos really is a remarkable little island, offering so much variety …it is hardly surprising that at the airport we found ourselves surrounded by passengers who were on their third and fifth return trips there. We left wanting to come back too.