So what do you do on a long overdue return trip to Sydney, where you lived for a year in the 1980s and visited family on many occasions? When you know the view of the opera house so well, it is imprinted in your mind, when you have visited most suburbs and museums and many beaches and Taronga zoo is still familiar. Well I think you just hang out and enjoy that wonderful quality of Sydney summer life, you see what's new and do a bit more of what you know and love.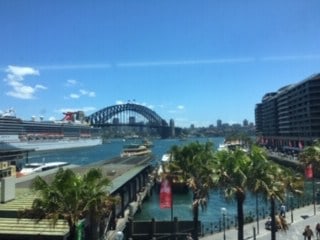 As for sightseeing: First up you soak up the view of the Harbour Bridge and Opera house, it is so much more beautiful than you can ever remember. I had been there a week before I caught my first glimpse of the Bridge. It took me by surprise as I was on a train coming in to Circular Quay station framed by the vivid blue Sydney sky and harbour it gave me butterflies. I was on my way to a new (for me) museum, the Hyde Park Barracks museum. https://sydneylivingmuseums.com.au/hyde-park-barracks-museum
I was keen to discover more about my convict heritage and it was a great museum, housed where many of the first arrivals were holed up before being sent to work. It was a really accessible museum, a living museum with recreations of what life was like on the transport ships and the hardships of the first settlers. I have read the fatal shore and the secret river, but nothing evoked the hardships as much as standing on the spot where they actually took place. I intended to pop in for half an hour and two hours late4vi had to drag myself away.
I went from there to the Art Gallery of New South Wales, to see some Aboriginal art, which I had overlooked on previous visits and which was stunningly impressive. Lunch was an Aussie meat pie in the gallery restaurant, oh they are so good and before leaving I popped in to see the Golden Fleece, a nineteenth century painting of sheep shearing by Tom Roberts which I didn't remember ever seeing in real time before. https://www.artgallery.nsw.gov.au/collection/works/648/
I wasn't disappointed. I also managed to find some hand made kangaroo and koala Christmas tree decorations I the gift shop to take home.
So tired was I from all that, I sloped a few hundred yards into the stunning Botanical Gardens where I lay down on the grass and went to sleep on the grass under a tree. When I woke up I was able to appreciate the gorgeous lush vegetation with the backdrop of the harbour, which certainly gave Kew Gardens a run for its money. Unfortunately I didn't have time to do it justice, but it is top of my list for my next visit. I was in a rush to get the Manly ferry,(the ferry to Manly) with all the Friday night commuters- it costs next to nothing and is a half hour ride across the harbour soaking in views of the Eastern suburbs, the Spit, the Heads and the breathtaking arrival in Manly.
Manly
Manly is stunning as ever, with its laid back beach vibe, you are never far from one of its beaches I drank champagne with friends overlooking the harbour beach, crossing to a party at the surf club on the ocean beach (canapés were mini meat pies, I'm not kidding! I ate 5), finishing off the evening with lychee martinis at the Manly Wharf Hotel on the jetty over the water. Next morning we had breakfast at The Pantry, you've guessed it on the ocean beach – eggs benedict have never looked so good. http://www.thepantrymanly.com
There was time for a stroll up the Corso and a wander through the eclectic weekend market stopping to buy all manner of reusable straws (metal and bamboo) at the xxx stall.
It was then time to catch the ferry back to the city to go to another more famous market, Paddington market, in The Inner Suburbs which specialises in locally made goods. Hours went by there, buying classy designer t- shirts featuring Manly and Bondi Beach, locally made skirts and my favourite purchase of all, 6 pewter coffee spoons with different Australian animals on them (oh and a squeezie Donald Trump head in the shop across the road). http://www.paddingtonmarkets.com.au/about
I hopped on a bus to sunny Newtown where I was staying in time to help put up the Christmas tree, before heading out to a fabulous family meal at Acre in Camperdown. https://www.acreeatery.com.au/home#
It is a sprawling airy green house style restaurant surrounded by vegetable parches growing what's on the menu and really is a unique experience. I sort of had to have some crab, followed by a perfect steak and polished off with an espresso martini, before going home to sing to Christmas carols in the garden.
Newtown was a fabulous place to stay. It reminds me a bit of Islington's Upper Street 20 years ago, but much bigger and much cooler. Its spine is King Street which is lined with funky bars, restaurants and shops for a good mile or so. Chains don't really exist notably , only small local shops, such as the Read or Dead book shop where a charming shop assistant produced a pile of her favourite books by Australian authors when I asked if she could recommend something set locally. I settled on 'I am the Messenger' by Markus Zusak the author of The Book Thief which gripped me throughout my stay. Saturday morning in Newtown is full of locals going about their leisurely, business stopping for a coffee, or in our case a meat pie at Black Star Pastry, seriously the best pie I have ever had. https://blackstarpastry.com.au/savoury
I thought the beef and brisket was unbeatable until I tried the lamb shank version. OMG. And their watermelon cake was divine, even just looking at it was enough, you didn't need to taste it. We ate all this sitting on a wooden bench outside the bakery in the sunshine.
We made it down to the farmers market at Carriageworks in the old railway yard, where we tried all manner of local specialities, from oysters to kangaroo salami. It was a reminder of Borough Market, similarly atmospheric in its setting in the old carriage workshops, but much more 'farmer' and more diverse in its produce. We came home laden with cheese and som3 rather delicious salted caramel sauce. Although we were so full, we were entertaining, so we hopped into the car and headed to Sydney fish markets. What a sea food Mecca! I was quivering with excitement. It is just by the entrance to the harbour bridge and as well as being a a fishing harbour it sells wholesale and retail and has several great restaurants and stalls where you can eat if you have time to linger. We couldn't as we had serious cooking to do. My cousin Dave bought a big fish for baking, balmain bugs, blue crabs and giant prawns , all for half the cost it would be in the UK.https://www.sydneyfishmarket.com.au/home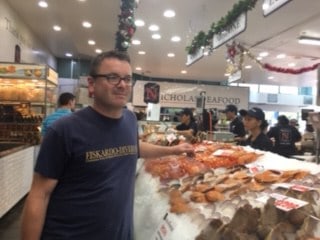 We went home and while I dozed under a gum tree in the yard, Dave cooked up a seafood feast, which we all said was too much, but we managed to finish every last prawn head, and oh how good those prawns were, washed down with some local Sauvignon blanc from an old friend's vineyard.
Bondi to Coogee
Another favourite Sydney day was the walk we did from Bondi to Coogee. I was amazed at how upmarket Bondi had become since my first trips there as a teenager and walking past Icebergs, the cool cuboid restaurant with rooftop bar I perched on the edge of Bondi Beach determined to return there on my next Sydney visit. The walk about 1.5 to 2 hours was stunning, along the coastline, up and down in and out of picturesque bay after bay, always something to look at as well as the breathtaking harbour. https://www.bonditocoogeewalk.com/bondi-coogee-walk-map.html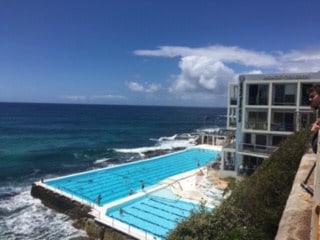 We stopped for a coffee at the first beach, Tamarama beach cafe with its shady terrace pointing straight out to sea before the stretch to Clovelly, we wandered through the historic Waverley Cemetery, perched high on the cliffs and the Clovelly Bowling club where matches were underway in complete nonchalance of the setting. as we passed Clovelly Beach and pool, we decided it was time for lunch and stopped at Seasalt cafe, with its bustling terrace above the beach where we feasted on charred Brussels sprouts, baked cauliflower, crushed avocado , hoummous and chorizo. We could have stayed for hours, but Coogee beckoned.
Beach
And there was the genuine 'day at the beach' day – we went to Curlcurl, one of the northern beaches on a scorchingly hot Sunday. We pitched up and I had forgotten how totally devoid of shade Australian beaches are. It didn't stop cousin Dave hurling himself at the waves on his surfboard as we went off to the rock pool for a calmer swim. We managed a good beach 3 hours swimming and dozing and eating calamari and chips under the rocks. It reminded me of my youth and when I could spend the whole day hanging out there.
On the Postal Run
I left Sydney for a couple of days but went on what could be a great day trip from the city. I had read the Secret River by Kate Grenville about the settlement of the Hawkesbury River. I had driven along and across the river many years ago but wanted to see it from the water as the early settlers did. The Hawkesbury riverboat postal service is the only one operating in Australia and it takes passengers. So early on a Monday morning rush hour I left Sydney by train for Brooklyn. It was the most scenic ride through mountain tunnels, bursting out into the brilliant sunshine lit coves of the Pittwater. The sleepy village of Brooklyn is the base of the River boat postman and we set out with 15 or so passengers to deliver the mail to the islands and other addresses along the Hawkesbury which cannot he reached by road. It was a fascinating trip, delivering to the settlements of Dangar and Milson Islands, Kangaroo Point, Bar Point, Marlow Creek, Fisherman's Point and Milson's Passage all water locked settlements. Usually we were met by a dog in search of a treat as well as a person to unload the cargo of parcels and newspapers and other goods. The crew and the islanders having a quick catch up before setting off to the next destination. The boat captain kept up a narrative of Hawkesbury River folklore which was as fascinating as it was amusing and then just left us to quietly soak up the breathtaking water views of the undisturbed banks and islands around us. 
So that was my week in Sydney, hanging out with the locals, chilling and doing some of the lesser known tourist sights. There was a lot of eating and drinking, none of it disappointing a lot of beautiful scenery and a lot of fun. Sydney is an incredibly easy city to get beneath the surface if, you just have to scratch it.