When we visited Antigua in September we were lucky enough to stay at the gorgeous Blue Waters Resort and Spa. While we got out and about to explore the island (see separate blog) the hotel itself was, without doubt, the star of the show.
Situated on the north-west coast of the island, about 15-20 mins from St John's, this privately (British) owned property has been a real favourite with British visitors for many years – plenty of them returning year after year. Why is that?
The answer to that is a number of factors, but its beautiful spacious gardens, charming understated elegance, fine food and brilliant staff all play their part.
Gardens and Pools
Originally opened in 1960, the hotel and its site have evolved with their magnificent lush tropical gardens which are a real highlight now. There is so much space, with the 17 acres being home to just under 100 rooms, so as to never make it feel remotely full or crowded. We were lucky enough to join a garden walk led by John, the head Gardener, who brought the place to life with his clear love (and explanation) of the plants, their development over the years and the constant careful ongoing tender care they need. Also dotted throughout the hotel are cold water stations – perfect for topping up your water bottle and stopping the use of plastic bottles.
There is a good choice of pools and that is not counting the private villa and Cove suite pools linked to those properties and rooms. The main infinity pool by Carolyn's Beach Bar is just a few feet from the ocean and there's also the pool by the Pelican Bar, perfect for a sundowner or two. A particular favourite of ours was the Adults Only pool just back from the beach – a quiet hidden haven with a dozen loungers and deep, cool pool.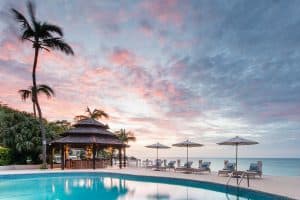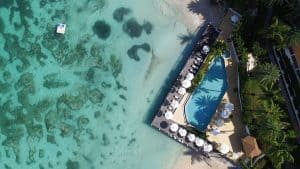 Rooms
We stayed in a Deluxe Beachfront suite with spacious balcony and wide panoramic views across the gardens to the beach and sea. The view was spectacular and mesmerising and the balcony daybed there a favourite spot. The room was very comfortable, well equipped and every one has either a balcony or terrace. These make up the majority of the rooms and they stretch around the beach with a variety of fine views – none of them are more than 2 mins walk from the main restaurant, beach or bar.
Slightly further away, an extra minute or two, are the villas and Cove Suites – both have a concierge service and a bar/barman. The villas are very individual and really work well for a larger group and family with their own pool. and there's also a small bar in the area. Cove Suites are in separate blocks, four of them, and consist of very spacious suites, with fine sea views, that share a private pool.
Beach & Watersports
There are a couple of beaches and at no stage did either of them feel remotely busy. The sun beds were well spaced out and there was drinks service from two different bars with regular top ups of fresh fruit and ice creams if you needed any additional sustenance. The friendly beach team were always on hand to help with the watersports equipment with SUPs, kayaks and Hobie Cats being used throughout the day. They would also help with tuition and lead kayak expeditions along the coast. Most days outside operators would appear to pick up clients such as the Xtreme speedboats for the Round Island trips and the Waddali Super-Cats. If you wanted something like a jetski the boys would help organise that too. Despite these activities this was a brilliant and quiet swimming beach with plenty of space and with life rafts to swim out to and lounge on.
Bars/restaurants
The main Palm restaurant is airy and spacious and where we had breakfast and a number of dinners including a great fun BBQ evening. You can sit inside or out and it has great views across the gardens to the sea. Breakfast highlights included the daily fruit smoothie, omelettes and the local fish breakfast and there was always a great choice for lunch or dinner. If we were in the hotel for lunch we ate here or at Carolyn's down by the pool and beach where the flatbreads and Wadidli Beer (optional) were superb.
On a few occasions we ate at the hotel's sophisticated Cove Restaurant where the menu and food were a step up. This is fine Caribbean dining in a fabulous cliff top setting, the waves crashing on the rocks just below, with the lobster being a particular favourite. The staff were outstanding at both restaurants, knowledgeable and efficient. The quality of the local fish on offer at the hotel's restaurants was really superb – we were amazed at the range and freshness of it  and the staff explained it was delivered daily direct from the fishermen.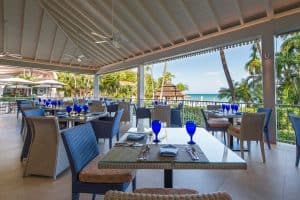 Activities
There's a low key, but regular pattern of activities at the hotel for residents which range from early morning yoga and garden or village walks to sunset pilates and fishing. You can join a kayak tour or if you prefer try the Rum or Wine Tasting sessions. There was music on three different occasions during the week plus a great BBQ evening and Tapas by the Pool. You do need to book up in advance and many of these run a couple of times a week. It is safe to say the rum tasting is more popular than the neighbourhood walk!
If you were looking to be more active the hotel has a gym and tennis court, both quite busy, plus a games room with pool, table tennis and board games.
What about Antigua itself?
We had a wonderful stay at Blue Waters with the superb food and time just relaxing on the beach. We do have itchy feet however so no opportunity is lost to get out and about exploring the island. We hired a jeep for a couple of days to make the most of our time there and you can see the separate Antigua blog for more details. Just under 8 hours away, clear testing requirements and forms, 365 beaches and guaranteed sunshine and heat. What's not to like about a trip to Antigua, or the wider Caribbean, this winter?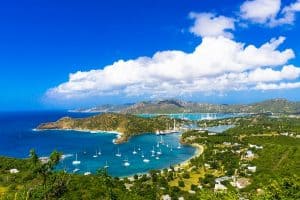 Blue Waters pretty much has it all. As well as its beautiful setting and great facilities it still offers extremely efficient, dedicated and helpful service in a truly relaxed and friendly Caribbean style which makes it such fun to stay there –  above all the staff were incredibly helpful, chatty and fun.